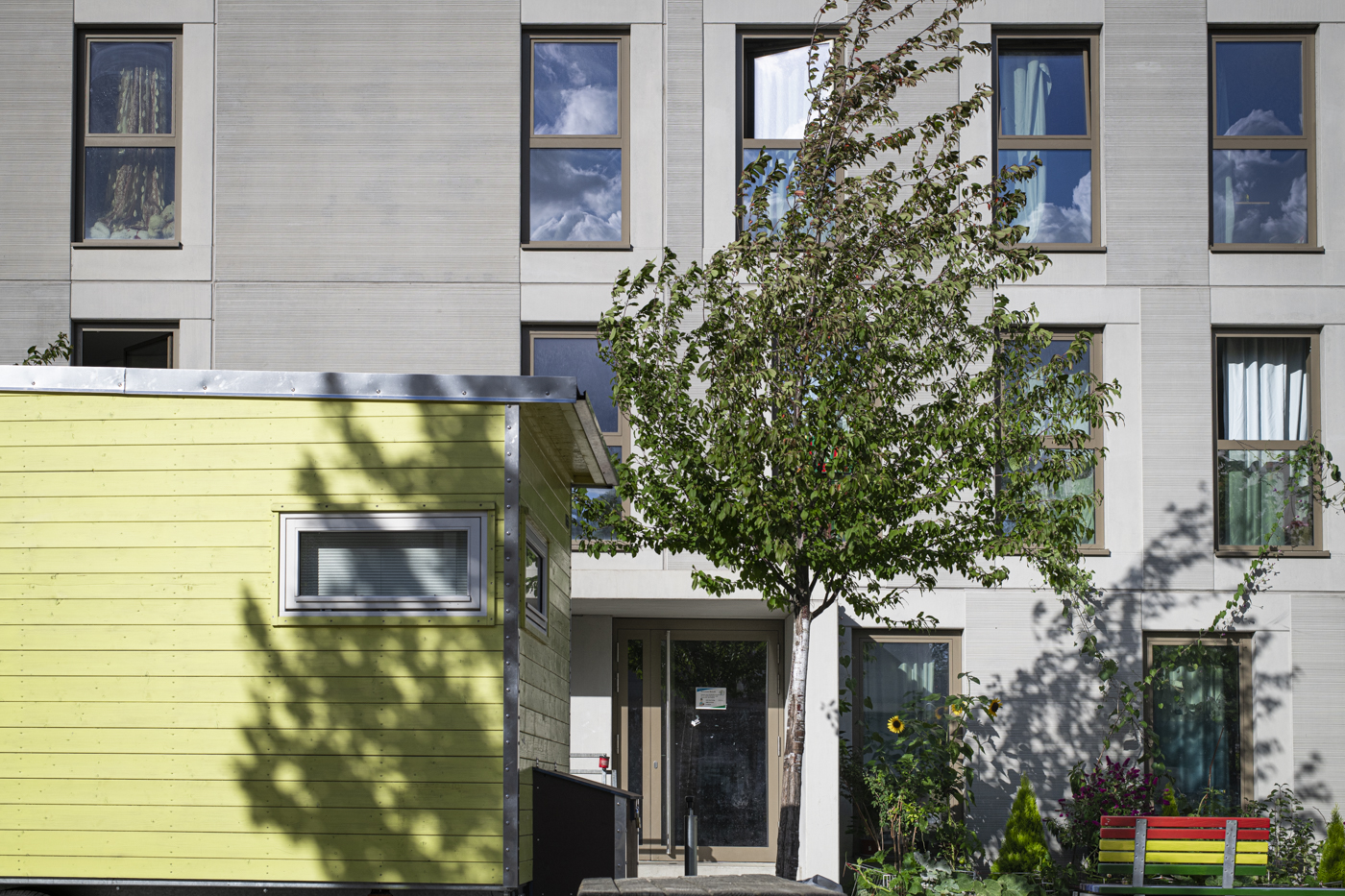 Die Abschlussveranstaltung war so herzlich wie die Begrüßung!
Neugierde und große Wertschätzung gesehen worden zu sein brachten Bewohner der Unterkunft dem Künstler Pascal Mayet entgegen. Sie werde das gelbe Ding vor der Haustür vermissen, sagte eine Bewohnerin zum Abschied.
Dort saß Pascal jeden Tag auf seiner Plattform und zeichnete das Panorama das ihn umgab. Details, die sich in der Summe seiner filigranen Buntstiftzeichnungen aneinanderreihen. Er schenkte dem Ort, an dem er für 4 Wochen lebte, seine ganze Aufmerksamkeit.
Am letzten Tag zeigte er seine Bilder im Fenster des mobilen Wohnateliers, als Zwischenschritt, anders als er gewöhnlich seine Arbeiten präsentiert, um seinen Blick auf die Umgebung mit den Leuten, denen dieser Ort so vertraut ist, zu teilen.
Es war ein intimer Moment, der auch ungewöhnlich viele Frauen im Laufe des Abends aus der Deckung dicht ans Fenster des gelben Wagens lockte. Die feinen, zum Teil winzigen Zeichnungen haben etwas anderes festgehalten, als Fotos das können. Und ohne große Worte sehr berührt.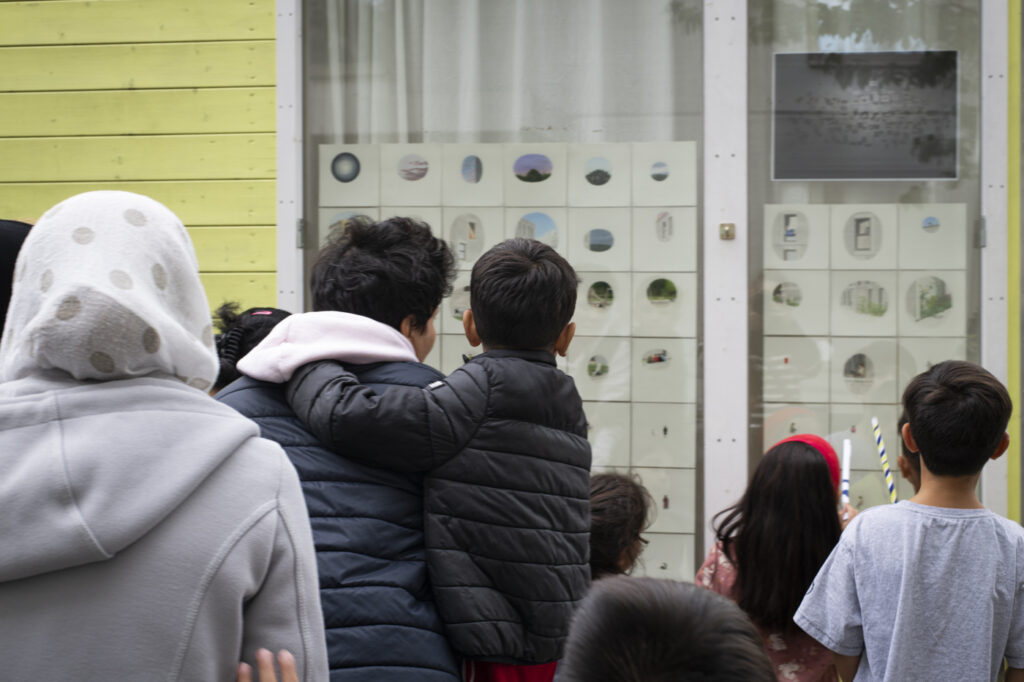 The final event was as warm as the welcome!
Curiosity and great appreciation of having been seen were expressed by the residents of the accommodation to the artist. She will miss the yellow thing in front of her door, said one resident at the farewell.
There Pascal sat every day on his platform and drew the panorama that surrounded him. Details lined up in the sum of his intricate colored pencil drawings. He gave all his attention to the place where he lived for 4 weeks.
On the last day, he exhibited his drawings in the window of the mobile living studio, as an intermediate step, different from the way he usually presents his work, to share his view of the surroundings with the people to whom this place is so familiar.
It was an intimate moment that also attracted an unusually large number of women to come close to the window of the yellow wagon during the evening. The tiny, delicate drawings captured something different than photos could. They deeply touched without many words.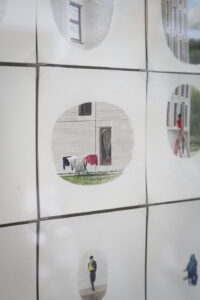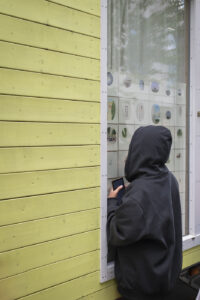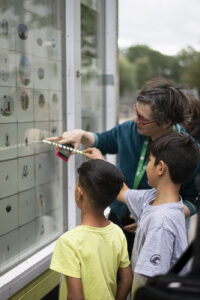 Herzlichen Dank von msk7 an die Heimleitung, die dem Projekt offen und wohlwollend gegenüberstand! Es hat sich einmal mehr gezeigt, dass das eine wichtige Grundlage für ein gutes Miteinander ist.
"Pascal hatte angekündigt, er wolle ein 'Fly-on-the-wall Approach' nehmen und ganz unauffällig die Menschen um sich herum zeichnen. Man sah ihn jeden Tag auf seiner Atelierterasse ganz ruhig zeichnen, aber er wurde viel zu sehr gemocht, um ein fly-on-the-wall sein zu können! Viele Familien haben ihm warme Gerichte gebracht, weil sie sich Sorgen machten, dass er nicht genug zu essen bekommt. Andere waren neugierig und wollten sehen, was er macht. Viele Bewohner*innen und Kinder haben sich mit Pascal unterhalten – es gab täglich einen regen Austausch. […] Wir bedanken uns bei der msk7-Gruppe und bei Pascal für die schöne Zusammenarbeit und für das sehr gelungene Projekt." (Joanna Lundt, Stellvertretende Einrichtungsleitung/Ehrenamtskoordination)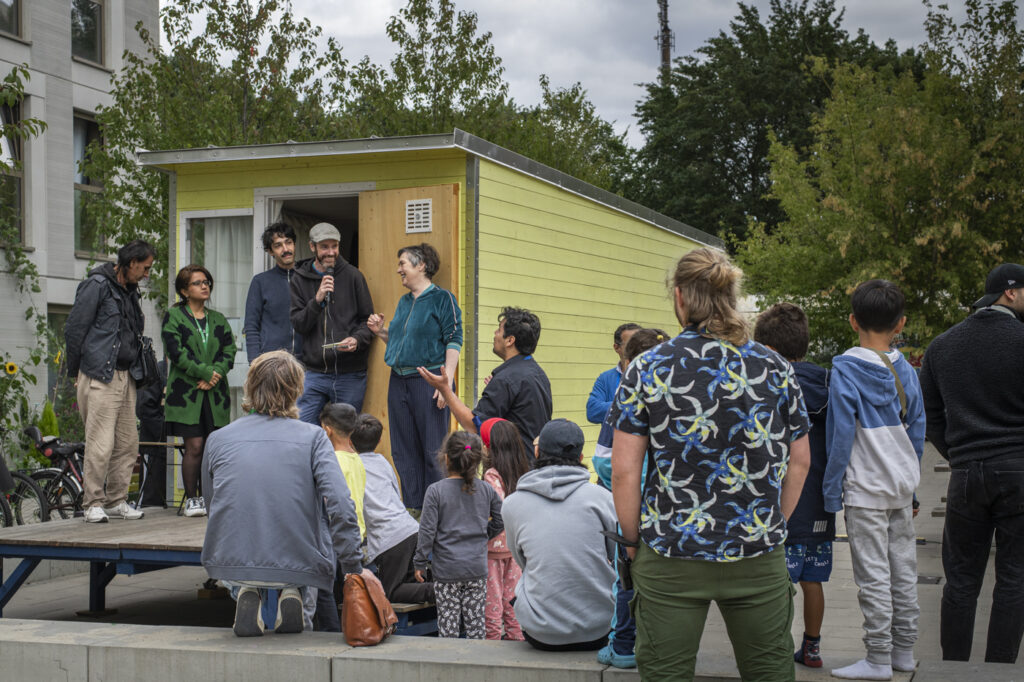 Many thanks from msk7 to the shelter management, who were open minded to the project! Once again it has been shown that this is an important basis for a good cooperation.
"Pascal had announced that he wanted to take a 'fly-on-the-wall approach' and draw the people around him quite unobtrusively. He was seen drawing quietly every day on his studio terrace, but he was liked far too much to be a fly-on-the-wall! Many families brought him hot dishes because they were worried he wasn't getting enough to eat. Others were curious and wanted to see what he was doing. Many residents and children talked with Pascal – there was a lively exchange every day. […] We thank the msk7 group and Pascal for the nice cooperation and for the very successful project." (Joanna Lundt, Deputy Facility Manager/Honorary Coordinator)